The College focuses on development of integrated personality of students and provide ample facilities and good infrastructure for the same.
The college seeks to impart knowledge and develop skills in women to become professionals and aware about the latest trends and inculcate social sensitivity for the betterment of self & society. College offers congenial environment for study of its students. Since its inception the college bears the record of providing cent percent— result & is consistently growing It conducts multi dimensional activities to develop all round personality of students and provide them with constructive occupations and alternatives. Though various courses and activities, emphasis is laid on providing opportunity to students to express themselves creatively. The academic and cultural societies and clubs regularly organize wide range of activities and competitions such as inter college debate and dance competition, dramatics, sports, quiz etc. The college is successfully running the NSS and Red Ribbon Units.
Class Rooms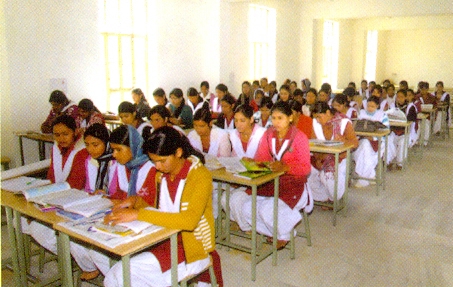 Spacious and well ventilated classrooms, are quite suitable for using a slide projector,OHP, VCR, Infosys and Infotech aids etc. to enhance the teaching-learning process. CD, multimedia and Internet facilities are also available.
Ultra Modern Auditorium
The College has an auditorium with ultramodern facilities and in sync with conferences, seminars & assemblies. Banshiwala Girls College provides a platform to its student's talent in the form of organizing different cultural programmes, conferences, seminars etc for which we have a spacious & modern auditorium.
Library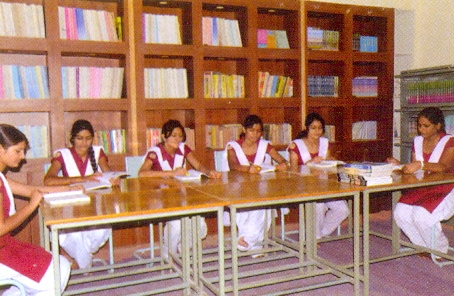 College has a well stacked library along with reference books and a well equipped and furnished reading room. More than 30 journals and magazines and daily news papers both in Hindi and English are provided for students to update them with the latest developments and create awareness about their surroundings.
Sports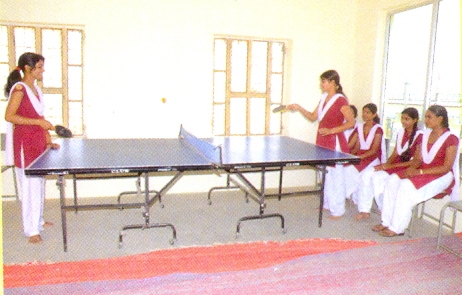 Students get ample chance to learn & enhance their skills in various outdoor and indoor games. College provides
indoor games like, Chess, Carrom, T.T. etc. and outdoor games like, Basket ball, Volley ball, Badminton, Athletics etc.
'A sound mind ina sound body'. The student will be given ample opportunities to participate in different games and sports. College has vast playground for games. A physical education teacher takes care of the student participation games material and facilities are provided fullest to the students.
FACULTY : Banshiwala Girls College gives great importance in recruiting faculty resources having the best academic and research credentials. Subodh realizes that faculty constitutes a pivotal building block in its efforts to achieve highest standards of excellence in higher education. Thus a congenial environment and ambient surroundings attract high caliber. The Faculty is provided all facilities and constantly encouraged for personal research, to undertake projects and improve their qualifications. Such attributes keep the faculty fresh, vibrant, at the cutting edge and exclude excellence in their specialisation.
VISITING FACULTY : Having achieved prominence in their respective fields, the visiting faculty gives the students a different insight into the subject with the experience they have gained. They encourage the students to look beyond the books and explore the subjects with experimental learning.
OTHER CIRCULAR ACTIVITIES
A reputed women college with Arts, Commerce streams and professional courses.
Campus is spread in a large area and having most modern infrastructure.
Located at the center of the city.
Lush green and pollution free environment.
Well furnished seminar hall, equipped with modern teaching aids and LCD projector.
Indoor as well as outdoor sports facilities.
Lectures, Seminars and P.D. programs by experts for the overall growth of students.
Highly Qualified, experienced, competent and dedicated faculty.
Extracurricular activities viz. Cultural Programs, Sports Events, Group Discussion etc.
Campus is Wi-Fi enabled and provides high speed internet access and multimedia facility.
Industrial tours and trips are planned to various scientific institutions and leading industrial/business Corporate of India .
Regular tests, revisions and problem classes for all girls.
Special attention to poor girls.
Full fledged library.
Well – equipped Drawing, Home – Science, Geography, Computer Lab etc.
English Language Lab for the betterment of communication skills.
Women Cell and Educational tours.
Provides coaching for competitive exams and prepare students for
1) IAS ,RAS ,SSC ,PTET with BA
2)CA/CS/Clerk/ Po/ with B.com
3)For NET/ SET with MA.
Free Books
Computer Course
Employment Counseling
Free P.M.K.V. Y (Prime Minister Skill Development Planning)
All types of student recruitment
Wi-Fi campus
Sports Facilities
Different activities for the overall development of girl students